Investors bowled over by noodle prospects
Share - WeChat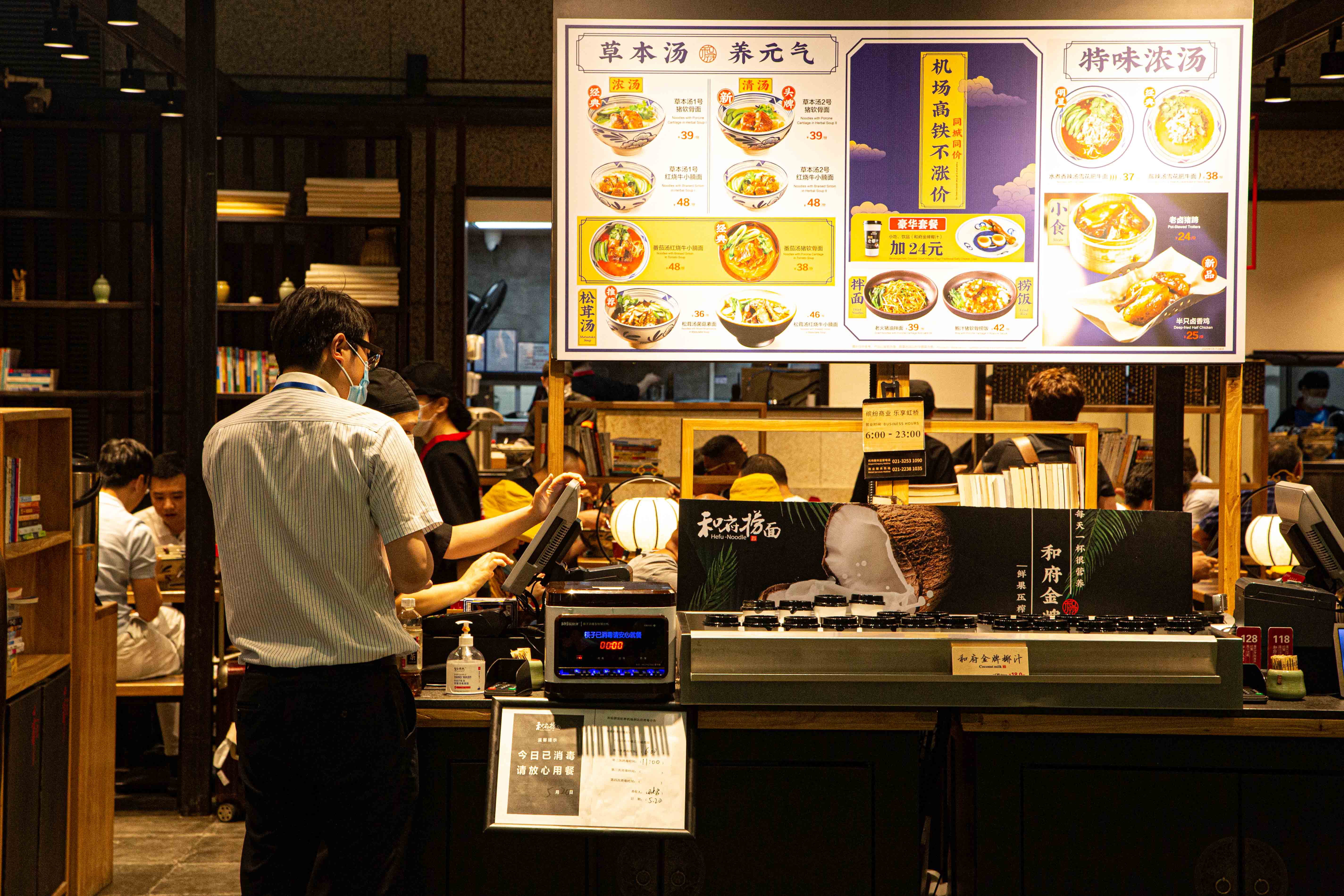 China has already developed a large number of renowned hotpot restaurant chains offering full-course meals. As for noodle restaurants, innovative new types of noodle chains have emerged in recent years, attracting the attention of investors.
This year, noodle restaurants have been particularly attractive to investors, with nearly 1.31 billion yuan ($202 million) invested in several noodle restaurant enterprises as of early August, according to data from Aiqicha, a financial information service provided by Baidu.
Hefu-Noodle is committed to becoming the top brand of "Chinese-style high-end fast food", and completed its latest round of fundraising involving 800 million yuan in July, the highest ever recorded in the dining sector in China. The restaurant's valuation is now estimated at about 6.4 billion yuan.
Since 2015, Hefu-Noodle has received investments from more than 10 major sources including Tencent, CMC Capital Partners and Longfor Capital, said Tianyancha, a business information provider.
"This year, the business scale of the catering sector in China is likely to resume to levels recorded in 2019 before the outbreak of the COVID-19 pandemic. There is perpetual demand for noodles from Chinese consumers, and many investors believe there is significant business growth potential for noodle restaurants and thus the sector is worthy of investment," said Zhu Danpeng, an independent food industry analyst.
The dining sector in China has been growing at around 10 percent annually. In 2019, the annual sales revenue of the dining sector in China reached 4.67 trillion yuan, up 9.4 percent year-on-year. In 2020, despite the market scale falling due to the pandemic, the sector still showed positive growth prospects over the long term, according to the National Bureau of Statistics.
Last year, China had nearly 3 million fast-food restaurants, and about 40 percent of the total were noodle restaurants, indicating Chinese consumers have strong demand for noodles, said the China Dining Industry Association.
In August, Lu Zhengyao, founder and former chairman of domestic coffee chain Luckin Coffee, officially launched his first noodle restaurant under the brand "Quxiaomian" in Chongqing and Beijing. The company plans to open the first group of the eateries in Beijing, Shanghai, Guangzhou and Shenzhen, Guangdong province, and Hangzhou, Zhejiang province.
Industry analysts said Lu is likely to further develop the noodle restaurants in the same way as Luckin by expanding outlets rapidly nationwide.
Unlike coffee, which has been a tradition in the West and has become increasingly popular in China in recent years, noodles have enjoyed a wide customer base in different parts of China for millennia. Chinese consumers from different regions desire noodles of various tastes and cooked in sundry ways.
Xiao-Mian, a restaurant chain that focuses on providing Chongqing-style spicy noodles, completed its latest round of financing of more than 100 million yuan in July, which is only four months after its previous round of financing in March.
So far, the noodle chain has received investments from investors such as Shenzhen Country Garden Venture Capital Co Ltd and Jiumaojiu Group, a catering firm, according to Tianyancha.
Meanwhile, wuyebanmian, or Wuye's Noodles, an innovative catering chain company, completed two rounds of financing in June and July, respectively.
Wuye said the funds received from its latest round of financing will be used to strengthen the supply chain system, speed up the building of its self-owned factories and open more outlets nationwide.
"A large number of young consumers don't like or don't have enough time to cook by themselves, and the trend is pushing forward the rapid growth of the catering sector in China," Zhu said.
"The business operations of many categories of food have been quite saturated in the market, while the market still has room for the growth of noodles, instant noodles and luosifen rice noodles, as there is still a lack of large-scale leading noodle chain brands with robust reputations," he added.