Meet the clout chaser
Share - WeChat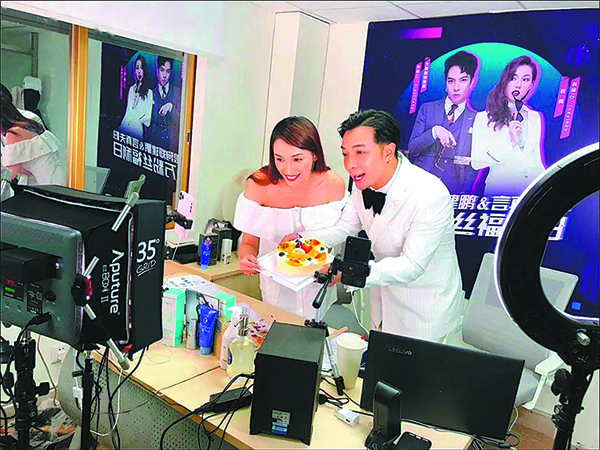 Years of experience in home cooking have made Grandma Qinba a swift and capable chef. In a short video on Douyin, the 72-year-old from Ankang, Shaanxi province, cuts, slices, pulls and even uses a chopstick to create her husband's favorite noodles. Not long after, the semi-translucent noodles are cooked and ready in the bowl, covered with all the fixings-bean sprouts and celery on the bottom, garlic and spicy seeds for garnish. With vinegar and fiery chili sauce, grandpa is happy to gorge on them all, and the wrinkles on his forehead unfold, while teasing the taste buds of million of viewers.
Since her grandson Zhang Wanlu opened the account on the short video platform, 2.8 million fans have followed her. The cravings for, and memories of, the rustic taste of their hometowns have turned into purchase orders for oily chili sauce, sweet potato vermicelli or dried konjac, which flood into the comment section of her videos from across the country. In 2020, her family sold 4 million yuan ($25.9 million) of agricultural products by filming Grandma Qinba's kitchen hours, and helped lift 522 poor households in the neighborhood out of poverty.
Once a frustrated migrant worker constantly on the move, the grandson has decided to return to his roots and bring the gifts from the mountains and wilds of southern Shaanxi to more people. As he wrote in the account profile: "After tasting all the gourmet foods, we revisit the rustic flavor, and that's why we call it home."
E-commerce speeds up key commercial processes, especially marketing, and one of the most spurring and evident developments in this area is short-video content providers. They have become creative platforms for more people to "record the good life".
In China in particular, short videos and live broadcasts are now helping to turn many rural users into mainstream influencers. Guo Xin, a marketing professor at Beijing Technology and Business University, says: "The promotion of rural revitalization requires the emergence of a greater number of such rural influencers, and their development also needs help from all social forces."
Short-video platforms have also spawned a large number of emerging business formats, providing more individuals and enterprises with huge opportunities for entrepreneurship, employment, income growth and even bigger dreams. According to the Flexible employment: Douyin's Employment Research Report released by the National Institute of Development and Strategy, Renmin University of China, from August 2019 to August 2020, a total of 20.97 million people were engaged in creative work through the platform to earn direct income from work such as live broadcasts and e-commerce. If the direct and indirect employment are combined, the platform creates and drives a total of 36.17 million jobs.
Most Popular