Staging a return
Share - WeChat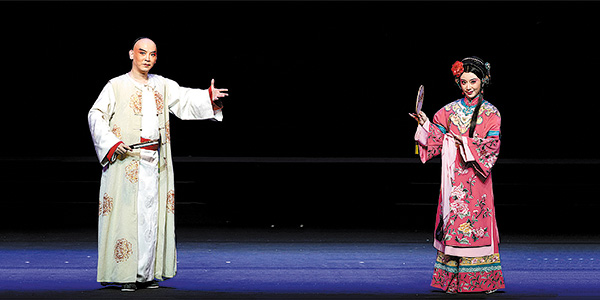 The Shanghai Grand Theater launched its 2021-22 performing season with a new production of operas Cavalleria Rusticana and Pagliacci on Sept 3. The two Italian operas, composed by Pietro Mascagni and Ruggero Leonavallo, respectively, are based on true events in the 19th century and are often performed together.
He Hui, the leading star of the production, who plays the role of the heroine in the two operas, is an acclaimed Chinese soprano and has been active in the world opera scene for decades. She says the COVID-19 pandemic resulted in the cancellation of many opera productions around the world, which left her with little choice but to sing in recitals and concerts instead last year.
"As a veteran opera singer, it is painful to be unable to sing in a proper opera," she says. "I am very grateful for the opportunity to perform the operas in China, and I cherish the collaboration with Maestro Xu Zhong and the Shanghai Opera House. I feel like I've come back to life when I am singing in an opera."
Xu Zhong, director of the Shanghai Opera House, used to conduct these two operas in Italy, where he served as the music director of the Teatro Massimo Bellini. In 2014, Xu brought the Italian opera productions to the Shanghai Culture Square, as the closing piece of the Shanghai Spring Music Festival.
"Maestro Xu is proficient with these two operas, and we have hired a vocal coach and language coach, as well as a British theater director to ensure quality of the production and retain the authentic Italian flavor," says Zhang Qingxin, deputy director of the Shanghai Opera House, who is also the executive director of the new production.
According to Zhang, director Martin Constantine created the overall concept of the performance while he was always onsite to ensure that his ideas were fully carried out. The director and coaches worked with the actors and actresses via video conference, and reviewed rehearsal recordings.
The Shanghai Opera House decided to present the opera in a concert format and without building elaborate stage design and props so that it could limit financial losses in the event of pandemic-related cancellation of the performance, Zhang says.
After the premiere in Shanghai, the opera production will tour Suzhou, Jiangsu province, and be part of programs of the Shanghai Grand Opera House, a new theater that is scheduled to open in the coming years.