Making cities fun places
Share - WeChat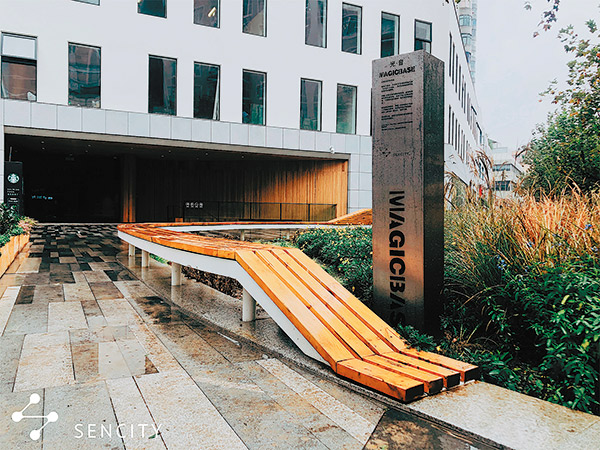 New designs for urban living, from intelligent rubbish bins to musical benches, offer a new approach to life.
Since November 2020, a long bench has been drawing passerby's attention on Shanghai's Yuyuan Road. When people sit on different parts of the bench, music plays from various instruments. What's more, as more people sit down, the multiple instruments play in harmony.
The device was designed by Steven Bai's team and is named "magic base". It serves not only as a place to rest weary legs but also offers an entertaining experience in a public space.
Bai, 29, is an entrepreneur who aims to reimagine the way cities and people interact and hopes to change the way people think about social responsibility as well as imbuing the urban environment with moments of joy, a touch of magic and an element of playfulness.
One of his team's key products, the TetraBIN, won the 2020 Gold Edison Award in the Living, Working & Learning Environments category. The citation of the award, named after the US inventor Thomas Edison, noted that it "refashions the trash cans and traditional information kiosks as an innovative piece of interactive urban furniture that encourages positive behavioral shifts and brings joy to the everyday necessity of waste disposal".
The idea of the product started during Bai's bachelor studies at the University of Sydney. Growing up in Beijing, Bai moved to Australia for high school at the age of 14.
In 2011, after receiving offers from universities in the United States and Australia, he decided to study design computing at the University of Sydney.
"It's a historical university which has educated many popular alumni in many fields from business to art to politics including entrepreneurs, Nobel Laureates and Oscar awards winners," Bai says.
Bai learnt about programming when studying in Beijing, so for his college study he says he hopes to choose an interdisciplinary subject.
He thinks compared to other overseas students who just come to Australia for college, he has already adapted to the local customs.
Bai recalls after entering college, he started to offer free help to his professors on their projects.
"I remember I helped a professor to shoot documentaries in the forest and to observe people's life which boosted my communication skills," Bai says.
Bai thinks what college life brings him is the collaborative experience. "We have genus classmates in many areas, and I can ask them for help when we sit down together and have a cup of coffee. There are also workshops on campus which have open resources for us to use," he says.
According to Associate Professor Martin Tomitsch from the university's School of Architecture, Design and Planning, design computing is an innovative degree in which students learn about how people will experience future technologies.
During Tomitsch's course "Advanced Interaction Design", Bai and two of his classmates developed the original idea for TetraBIN.
Tomitsch says that the challenge for students of the course was to identify an urban issue and to come up with an innovative solution that addresses the issue. Bai and his team wanted to tackle the issue of littering in cities.
Tomitsch supervised Bai's research project focused on persuasive computing in 2014 which laid the foundation for Steven's TetraBIN project-Discarding trash in the bin starts a Tetris game.
According to Bai, persuasive computing is using technology to encourage people to have a change in behavior. "For example, on Apple watch it will remind people to stand for a minute every hour," he says.
Tomitsch thinks TetraBIN was a clever concept that addresses a real problem in a new, innovative way.
"Rather than penalizing the wrong behavior, it encourages people to do the right thing by turning a mundane act into a playful experience," he says.
"I encouraged him to submit his idea to the Vivid Sydney Light Festival, which allow us to receive funding for building the first two prototypes and to expose TetraBIN to millions of people visiting the festival over the course of two weeks,"Tomitsch recalls. He still has the remains of one of the prototypes in his office.