Wu vows to keep fighting on
Share - WeChat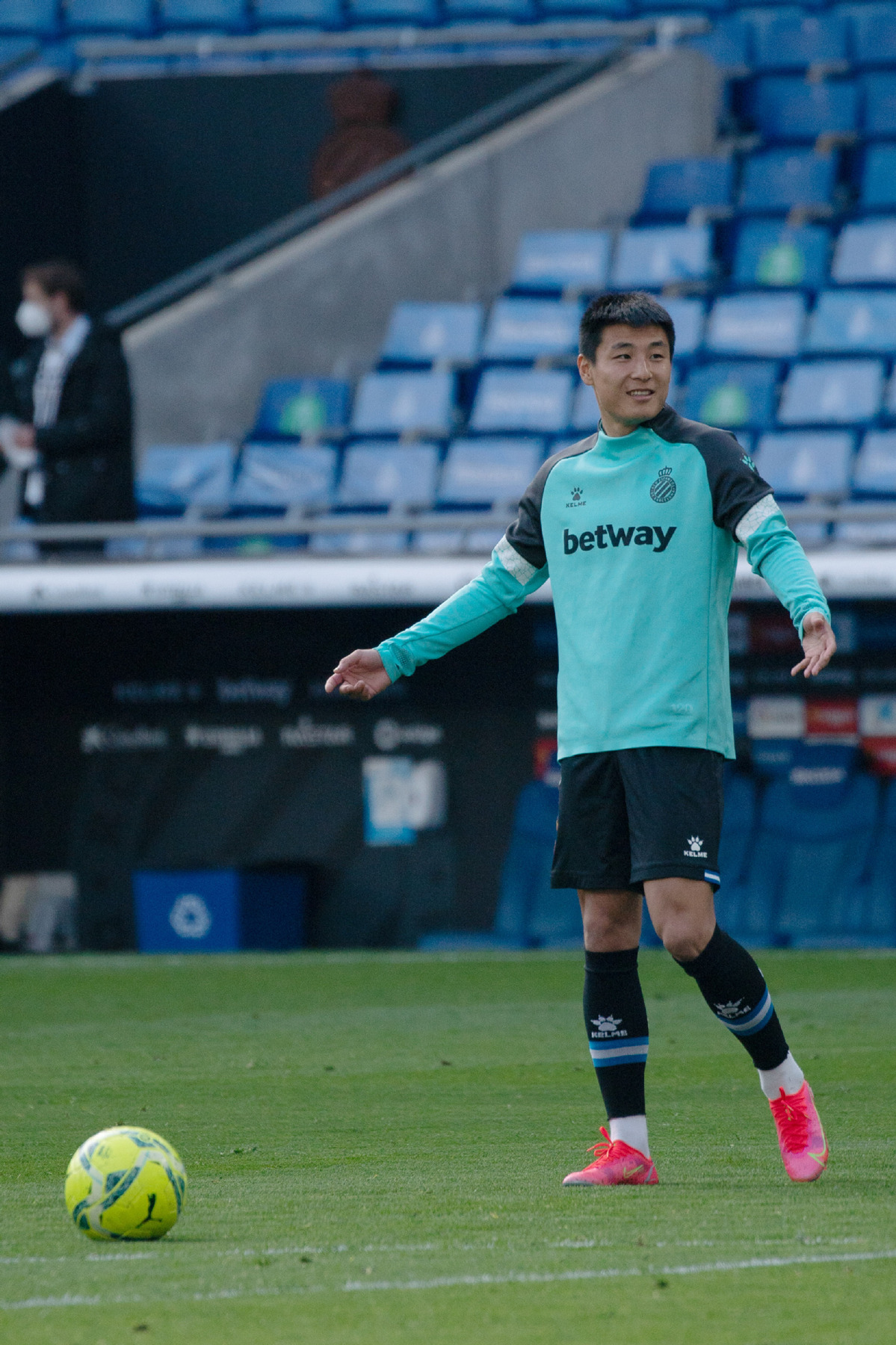 After warming the bench for Espanyol in Spain's second division for most of the season, Wu Lei is at a crossroads-stick with his team or start over elsewhere. On Wednesday, the China international seemed to suggest just one of those options is in his mind.
"I'm not afraid of the situation that I'm in right now," Wu wrote on his personal blog. "I'm very happy to see there is a positive competitive environment in the squad. And such pressure is what can encourage and motivate me to keep pushing myself harder."
After falling out of favor with Espanyol head coach Vicente Moreno, who was appointed last August, Wu has started just 10 games in all competitions, yielding three goals and two assists.
Perhaps more ominously, Wu has been an unused substitute in Espanyol's last three games, with photos of the striker watching the action from the stands tough to accept for fans back home.
While many supporters have suggested Wu should consider moving-either to another European team or back to the Chinese Super League-some have laid the blame for his lack of minutes squarely at the feet of coach Moreno. Wu, however, does not concur.
"Some days ago, I saw some fans blame the head coach online. I understand the frustration of my fans, but this is truly unnecessary," Wu wrote on his blog.
"The responsibility of a head coach is to lead the team to victory. So from this point of view, the coach is doing a great job."
Espanyol currently sits second in the standings, two points behind leader Real Mallorca and looking capable of returning to La Liga at the first attempt.
"We know how difficult it is to win a match in the second division. Sabadell was on a two-month roll without losing," said Moreno following a 1-0 victory over Sabadell earlier this month.
"They're a tricky team, but we were up to the challenge, and we beat them. We have to consider this as an important win."
Throughout his travails this season, Wu has been typically diplomatic, putting his team's needs ahead of his own.
"Watching the team win is what keeps me happy, even though I have been sitting in the stands throughout matches," he wrote. "As a player, I'm certainly not very willing to just sit there. But from the perspective of the coach, if this lineup keeps winning, there's no reason for him to change the players on the pitch.
"He needs stability to achieve better results. Our goal is to earn promotion, so with that in mind, we have to make our best efforts or make sacrifices in our own roles."
That sentiment has been echoed by some Chinese media, including sports journalist Liu Wenchao, who wrote on social media: "Espanyol's biggest goal this year is promotion. So a stable and mature lineup is more important. There's no room for any concessions or special treatment for Wu's personal feelings."
Wu's current predicament seems a world away from the success he enjoyed in 2019, when he arrived at Espanyol after helping Shanghai Port (then known as Shanghai SIPG) win its first CSL title.
He proved an instant hit at the Barcelona-based club, becoming the first Chinese player to score in La Liga and helping the team rise from relegation trouble to Europa League qualification.
However, Wu encountered unprecedented challenges in 2020 when he and his wife tested positive for COVID-19 last March. When he finally returned to the pitch after beating the virus, he failed to help Espanyol avoid the drop.
Wu was subsequently linked to clubs in England, Germany and Turkey, but chose to stay with Espanyol, vowing to help the club rebuild.
As well as loyalty to his team, family reasons have also played a part in Wu's decision to stay put, with the forward's blog updates often mentioning how his young children have settled into life in Spain.
"My two kids don't need to go to schools these days, so I took them to see our stadium. Due to the pandemic, they haven't been to our stadium for a long time," Wu wrote on Wednesday.
"I showed them our team's museum and dressing room. I also showed them how to use some of our training equipment. They insisted on trying each one themselves. I also took them to the middle of our pitch to let them enjoy the feeling of running on it... I hope they can understand those who love soccer must love their lives."