Regions display shining examples of progress
Share - WeChat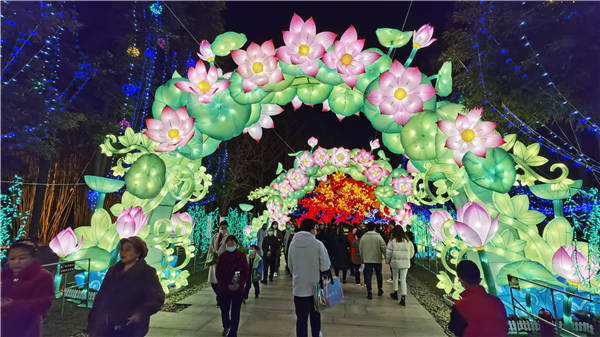 Residents of Sichuan province, shunning travel outside the southwestern province in the aftermath of COVID-19, have a new attraction to visit that's closer to home; the lanterns at the Jinsha Site Museum in Chengdu.
Sixteen arches with lanterns in the shape of flowers-peach, lotus, chrysanthemum and plum-have lit up the night sky over the museum. The museum, which covers an area of 300,000 square meters and is a National Archaeological Site Park, also displays lanterns featuring the culture of, and implements related to, farming, sun worship and folk customs.
They highlight the fact that Sichuan is a major grain producing region and that the museum oversaw the excavation of a 3,000-year-old goldleaf sunbird in 2001. The golden disc was adopted as the symbol of Chinese cultural heritage by the State Administration of Cultural Heritage in 2005.
According to the administration, its exquisite craftsmanship, representation of ancient Chinese people's worship of the sun and the Chinese nation's enterprising spirit account for the decision.
Despite the splendor of the lanterns at the famous museum, many Sichuan people long to visit Zigong, a city in Sichuan, the lanterns of which are considered to be among China's best.
However, out of consideration for epidemic prevention, the city will not offer a lantern show at this time of year.
Any mention of Zigong, about 200 kilometers from Chengdu, reminds people of its nearly 2,000-year history of salt production and, until recently, this was an important source of national revenue.
But Zigong is best known for its lanterns, the history of which dates back to the Tang Dynasty (AD 618-907).
The city, designated as a national-level historical and cultural city by the central government, has made many of China's best lanterns.
For this reason, the former Ministry of Culture named Zigong "the birthplace of China's art of lantern-making" and the former National Tourism Administration designated its lantern show as one of China's most important folk activities.
Rather than treat lantern shows as merely a traditional activity during the Spring Festival, Zigong holds them during different seasons and even in different countries.